ILACSDC programs get the word out
School presentation, mini-grants, workshops, new curricula and cleanups lead the way

ids are more sophisticated now. They know what a landfill is. They know about recycling," said Robert Opliger, education coordinator for I Love a Clean San Diego County Inc. (ILACSDC), an organization committed to conservation, recycling, environmental education and neighborhood beautification.
Earth talking

Through its Earth Talk program, ILACSDC puts teens on the talk circuit, while an adult speakers bureau goes to schools and adult organizations.


The hands-on presentations are tailored to each age group. Since young children relate well to animals, speakers first ask them what animals they've seen locally. Well, you haven't really seen dragons and dinosaurs, the kids are reminded when they come up with farfetched examples. On second thought, they remember the foxes and coyotes they've spotted. "We tell the kids that when they throw away trash into the canyons, they're taking away the homes of animals," said Opliger.


Speakers demonstrate how to make toys from trash. An empty bleach bottle becomes a piggy bank or scoop to catch bean bags. Plastic six-pack rings - one of the many environmental threats to sea life - are woven together to make a volleyball net. Speakers also hand out products made from recylables, such as writing paper, note pads, and pencils made from cardboard. "It's important to stay with the children, because a lot of adults have given up," said Opliger.


As part of the National Civilian Community Corps, Opliger has been named unit leader of five teams made up of 11 volunteers each. The San Diego-based corps campus is one of four in the United States. Beginning Sept. 7, the teams of 18- to 24-year-olds will take part in community service projects, such as Tijuana restoration programs.
New curriculum

ILACSDC just completed a two-year project, funded in part by the county. The result is a 500-page, 15-unit interdisciplinary curriculum. Up to 3,000 copies of the suggested curriculum will be sent to junior and high school teachers throughout the county. ILACSDC will present free workshops to show teachers how they can best use the curriculum that offers classes in sewage problems, water usage, ocean runoff problems, and more.


The organization is in the process of developing an anti-graffitti curriculum, funded by the city of San Diego, which will be distributed to all teachers in the county


.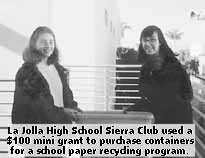 Mini grants and more

ILACSDC offers $100 mini grants to schools. Applicants complete a one-page form stating how they want to use the money, for instance, in starting a compost bin. "When the school district is very involved and active in the cause, then it seems to work a lot smoother," said Andy Schulman, program coordinator at ILACSDC. "All of us remember high school when there were no ecology clubs. Now it seems like all the schools have them."


ILACSDC offers an environmental awareness program for junior and senior high schools. A symposium and workshops held in downtown San Diego during the fall help ecology clubs come up with project ideas.


A new partnership, called the Clean Team, has been made between ILACSDC and McDonald's Corp. Geared for 10- to 15-year-olds, the team takes part in clean-up activities and members - currently numbering close to 500 - receive a newsletter.


One of the best incentives ILACSDC offers is its patch program. Cub Scouts, Boy Scouts, Girl Scouts, Campfire Girls and other organizations can earn different patches for completing four-hour activities. Patches available year-round cover beach and bay cleanup, street clean-up or adopt-a-bus-stop, and recycling. Once a year a special beach clean-up patch can be earned during ILACSDC's annual event.


Lorin Hallinan is a freelance author and former Editor for the Coast Dispatch and Carlsbad Journal community newspapers. A 13-year San Diego resident, she lives in Carlsbad, with her cat.