Environmental programs in our schools
by Lorin Hallinan

ore than ever before, children and teens are getting involved in preserving and protecting the Earth. They're forming ecology clubs. They're recycling. They're cleaning up beaches and studying lagoons. They're protecting endangered species. Best of all, they're spreading the word.


Thanks to a number of hands-on environmental education programs in San Diego, kids today are becoming leaders for tomorrow in the fight to preserve and protect the globe.


What follows is a glimpse of some of the numerous educational programs provided by schools and private organizations around the county that are sharpening kids' environmental smarts.
Building awareness

Water's common theme in science has inspired children in the San Diego Unified School District to take notice of water quality. "Kids are interested in clean water," said Dr. Vance Mills, the district's mathematics and science program coordinator. "Younger kids are the generation who will take much better care of the environment and are concerned about it. They realize this planet is theirs, and if we're not careful with it, they're going to inherit even worse than what we have now."


Although environmental education is not required in the district's 155 schools, it is recommended within the California Science Framework. Mills said a new science program in kindergarten through eighth grades integrates science and social studies. There also are more hands-on programs, not merely talks about the ozone layer.


Dr. Susan Bentley, assistant superintendent in the Carlsbad Unified School District, has seen a lot of changes since she started in the district 24 years ago as a science teacher. "As I go through the schools I see a lot of awareness on the part of the teachers. They're integrating awareness and respect for the earth in their activities," said Bentley. "When I talk to the youngsters, they've very much aware of the need to recycle, and they're learning about gardens that do not use chemicals."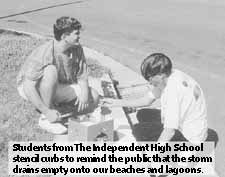 Magnet school hits the shore

The sea turtles weigh only three pounds when they arrive, but by the time they leave, they've fattened up to a robust 35 pounds.


Thirteen-hundred kids from preschool to sixth grade at Emerson/Bandini Elementary School in San Diego are benefiting from the magnet school's marine science focus. "Kids love it because it is such a unique subject," said Barbara Witzell, a magnet resource teacher at the school. "We've raised four endangered Atlantic loggerhead sea turtles and sent three back to the ocean."


It takes up to a year to raise the turtles from babies to 35 pounds. Because they're fed a diet of dead fish while in captivity, the turtles are sent to Mississippi after they leave the school so they can learn how to catch live fish. Then they're returned to the islands off the Georgia coast, where they were born. "Three years ago, it became illegal to hunt the sea turtles in Mexico, but they still do it," said Witzell. "They eat the meat, make beauty and leather products out of them. We're helping kids bring the knowledge to their homes that it shouldn't be done."


All grade levels study the biology, physiology and human interaction components of marine science. Field trips are taken and two weeks of every quarter are spent doing lab work.


Each grade level focuses on a different habitat. Kindergartners and first graders study the rocky seashore; second graders study sandy beaches; third graders focus on mudslides and marshes; fourth graders study the kelp forest; fifth graders explore the wonders of the open ocean; and sixth graders investigate coral reefs.


The school pairs with Sea World in its Partner in Education program, and Sea World helps the school develop its curriculum.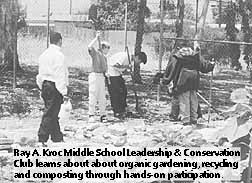 Saving salmon, protecting trout

Where have all the salmon gone? That's what Robert La Rosa would like to know as he parodies the popular song of the '70s with his banjo, giving talks to schools, Rotary and Kiwanis Clubs.


Wild trout and coho salmon used to literally choke streams in San Diego County and Baja, he said. Not anymore. The fish have been systematically caught in the Tijuana and Santa Margarita rivers and all smaller streams in between as late as the 1950s, according to La Rosa.


The breeds' near extinction had him so concerned, it led him to give up his own interests and use his skills as an artist, educator and musician. The result: founding of The Nature School in May 1993.


The non-profit ecology education academy in Ocean Beach and Soquel, in Santa Cruz County, was co-founded with Gloria Carrillo. The academy offers hands-on education programs at schools in San Diego County and conducts stream restoration projects along California's central coastline, under the auspices of the California Department of Fish and Game.


The programs include stream exploration and sample collection. Students also study books, pamphlets, videos, specimens, stuffed fish and live fish kept in a 40-gallon aquarium. They even get to watch baby trout, called fry, hatch. "When kids see fish emerge from gravel, they're besides themselves," said La Rosa.


La Rosa hopes to raise more money so that The Nature School programs can continue in full force. It costs from $3,000 to $7,000 to develop and present the programs to schools and clubs.
The Nature School's basic stream ecology program involves $350 worth of teaching aids and a $1,000 aquarium. "We've been requested by 30 schools to bring out our programs," said La Rosa. "I think we'll achieve enough of our goal to bring it to five or 10 schools this fall."


Inner city schools, such as Memorial Academy and Emerson/Bandini Elementary School in San Diego, have benefited from The Nature School's programs. "We feel that kids in the barrio are plain closer to the earth," said Rosa. "Here's an opportunity to instill a sense of confidence and accomplishment in them."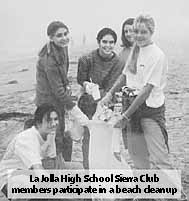 Clubs create unity

Global concern prompted students to start an ecology club at the Winston School, a private school of first- through 12th-graders in Del Mar. Sponsored by teacher Dale Alrich, the club meets on campus daily for 45 minutes, but its influence isn't limited to school grounds.


The kids volunteer for I Love a Clean San Diego County Inc. They clean up Del Mar State Beach. Kids worked with the student council and organized a campus clean-up. They even raised money to purchase one acre of land in the Rain Forest to be used for butterfly farms. "We want to get children more aware of the environment," said club member Jason Aussie, 17, a senior. "I'm more aware. At home, we recycle cans and newspapers and we didn't do it before."


This year, Winston won a first place award for beach clean-up in the Environmental Awareness Program, sponsored by I Love a Clean San Diego County Inc. They beat out La Jolla High School, who won first place in 1991 and 1992.


"[The science department] works very hard to educate the children," said Mary Sterling-Torretti, director of the upper school division. "If the kids hear something on the news, they come in and talk about it and ask questions, especially in the area of the ocean and pollution." Students have taken water samples from the ocean and studied the effect of pollution on the environment.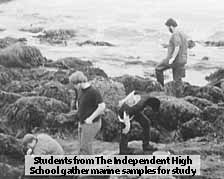 Small, but mighty

With a student body of just 30, you'd expect a subtle influence. That's not the case with The Independent High Schools (formerly North Coast Independent High Schools) in Encinitas, founded in 1991. At least 20 percent of its regular academic curriculum is environment related.


Students go out and clean up area beaches and lagoon trails. Their efforts won them a second place coastal clean-up award in the Environmental Awareness Program, sponsored by I Love a Clean San Diego Inc. "Anything you find in the grocery store, you find in the lagoon," said Paul Brice, 17, a junior at the school. "People throw things in the ocean, too, like beer cans, Coke cans, Zip-lock bags. I want to maintain the environment because of the destruction that happens because of ignorance."


Starting this fall, students will use test kits and incubators to study soil and water samples. If quality falls below acceptable standards, students will notify authorities to take action.


While some classes are held by the water, others hit the trail. Appreciation hikes get the kids out in the lagoon and surrounding areas. "One of the reasons we want to take care of this is because we love to hike in it," said Stuart Grauer, director of the school and a humanities teacher. "The lagoon, associated rivers and beaches are magnificent." The school keeps a collector's permit and "borrows" marine mammals and tiny invertebrates for study, then returns them back to the habitat.


If you've ever noticed stenciling painted on storm drains in Cardiff-by-the-Sea, Encinitas and the San Elijo Lagoon, it may the work of students at the Independent High Schools. With supplies donated by the Surfrider Foundation, students paint stencils of dolphins alongside such phrases as "Don't dump!" and "I live downstream!" to fend off dumping of anything down the drains. Twice a year students take fields trips to places such as Yosemite, Catalina Island, the Sea of Cortez, Colorado, Utah and other areas.


"They face challenges and it heightens their awareness of the environment," said Grauer. "It prepares students for college and the world."


Certainly, students in San Diego are getting more opportunities to care for the Earth. As long as the environment cries out for help, the opportunities will never end.