"Twice Is Nice" contest brings out kids' creativity
by Lorin Hallinan

he second time around returned as nothing less than ingenious when 90 children put their environmental smarts to the test and came up winners.


Kids ages 2 1/2 to 12 1/2 responded to a call for entries into the "Cycle With Liberty 1994 Environmental Awareness Contest," sponsored by Liberty Recyling in Carlsbad, a division of Coast Waste Management, Inc. Contest judges were awed by the children's spirit of creativity and imagination as kids reused a cornucopia of materials to make inventions ranging from robots, jewelry boxes, puppets, checker games and more.


The contest challenged kids to come up with a "Twice Is Nice" toy, game or just about any item they could think of that exhibited a creative, imaginative re-use of materials. Kids took the ball and ran with it individually or joined other children and approached the challenge as a school project.


This is the second consecutive year Liberty Recycling has sponsored a contest to spark kids' creativity in the name of environmental awareness. Last year children came up with colorful posters for the contest which changes its theme each year.


Margaret Bierd, corporate secretary for Coast Waste Management, called the response to the contest "terrific." According to Coast Perspectives, a publication by Coast Waste Management, the entries were "beyond belief." Kids used everything from milk jugs, empty toilet rolls, newspapers, egg cartons, old screws, pieces of cardboard and more as their imagination ran wild with invention.


Some children even used less common recyclables such as bottle caps, leaves and rubber gloves as they put together dolls, games, toys and many other inventions.


Most of the entrants were Carlsbad residents ages 7 to 9, however, creativity also streamed in from Oceanside, Del Mar, Solana Beach, Encinitas, Valley Center and San Diego.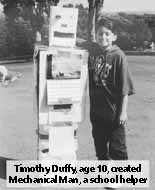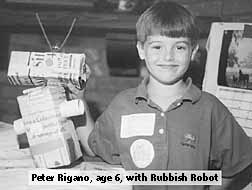 A ceremony to honor the children's hard work took place on June 30 at the San Marcos Chamber of Commerce Sundowner Club. Guest speaker Lt. Gov. Leo McCarthy handed out awards to three winners each in the following categories: grand prize, first prize, second prize, third prize and runners up. All 90 entries in the contest were on display at the Sundowner.


A passion for boats inspired grand prize winner Blake English, age 7, to create USS Trash. He and two other grand prize winners went home with a new bicycle and helmet. One of Blake's hobbies is to build boats out of everything under the sun, so creating one for the contest seemed only natural. "I like boats," said the first grader from Del Mar Heights Elementary School. Blake used a number of recyclables to make the boat's mast, sail, anchor and other nautical essentials. Toilet paper rolls became binoculars and plastic pastry containers were used for the portholes.


Six-year-old Peter Rigano gave his ambition to become an inventor a good start. Also a grand prize winner, the first grader from Mission Estancia Elementary School in Encinitas scrounged an old screw, a burned-out light bulb, a socket protector and other waste to come up with "Rubbish Robot." The robot's head pops up and down and has the advantage of rear vision - Peter put an eye in the back of its head.


A third grand prize went to 10-year-old Timothy Duffy of Oceanside. The fifth grader from Mission Burgener Elementary School said his Mechanical Man was designed to be a school helper to put in your room. The life-size pal made of carefully selected recycled materials sports a place to store books and school supplies and has an eye that doubles as a pencil sharpener. Timothy, who wants to become a doctor, summed up his concern for the environment this way: "Instead of garbage, we could recycle things to make new things, like I did."


First place winners who received $75 were: Jessica Hansen, 8, Carlsbad (Alley Gater puppet); Jordy Lievers, 8, Encinitas (checkers game); Keely O'Neill, 7, Carlsbad (The Recycliter-rarium).


Second place winners who received $50 were: Tracy Ball, 8, Carls-bad (Heart Toss); Joshua Aziz Nazarian, 7, Carlsbad (solar barbecue cooker); Thomas Kearns, 7, Carlsbad (Creature Catcher/Keeper).


Third place winners who received $25 were: Colleen O'Connell, 7, Carls-bad (jewelry box); Jacqueline Gagnon, 9, Carlsbad (Drop the Stick game); Fred Rojas, 8, Carlsbad (Trash Car).


Runners up were: Alberto Cota, 10, Carlsbad (rocket); Cassi Betten-court, 8, Carlsbad (Crazy Ball); Francisco Venegas, 10, Carlsbad (kite).


Winning entries will be featured in the fall "Cycle With Liberty" 1995 calendar, which will include the names of all 90 children who entered the contest.