Audubon Contest for an All Species Halloween
by Carolyn Chase

elebrate and raise awareness about biological diversity by using the theme of "All Species" to create your own fun project. The National Audubon Society is helping individuals and groups add an "All Species" aspect to local Halloween activities by sponsoring a contest and making excellent support materials available.


The categories for contest entries include: Best Endangered Plant Costume, Best Endangered Animal Costume, Best Habitat Costume or Non-Endangered Species Costume, Best Essay on "The Importance of Biological Diversity", Best Habitat Skit or Theatrical Production, Best Parade of All Species, Best Web of Life List, Most Original Banner Promoting Endangered Species or Biological Diversity, and Most Original Community Outreach. The deadline for entries is November 11, 1994. Prizes include trips to Audubon Ecology Camp, Bushnell binoculors, Audubon and SC Johnson & Son Inc. videos, Patagonia Synchilla and Joe Boxer t-shirts, and other goodies from The Body Shop and The Nature Company.


Audubon's All Species Information Packet contains: Lesson and Activity Guides on Endangered Species, (Grades 1-3 and 4-6); a Community Event Organizing Guide, Habitat Skit Guide, an Adopt-a-Species Resource Guide, and a Costume and Parade Handbook. A limited number of these kits are free upon request. Once the free kits have been distributed, additional copies will be made available for $10. Contact John Lawler at (202) 547-9009.


The materials are very well prepared and I recommend them highly. The All Species theme is used successfully for many Earth Day events around the country. If you are interested in organizing an All-Species themed event locally, contact me at San Diego Earth Day to discuss the possibilities. To receive the Contest Rules and Prizes, send a SASE to All Species Contest c/o Earth Day, P.O. Box 9827, San Diego CA 92169. If you wish to receive the information by FAX, please call 272-7370.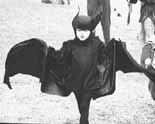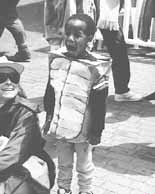 All Species constumes can be as elaborate as this fabric and wire bat or as elegantly simple as this turtle fashioned from a paper grocery bag.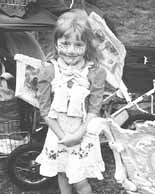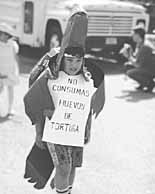 [Left] A little face painting complets this butterfly costume at Santa Fe's All Species Day celebration. [Right] Youth wearing a fabric turtle constume at Tijuana's Eco-Fest '94. Sign translates "Don't eat turtle eggs."

Carolyn Chase is Executive Director of San Diego Earth Day and a member of the board of Hawkwatch International.