October 23 at Crown Point Shores
Just say YES to YES!Fest
by Kari Gray

ou and your family are invited to attend the first annual Youth Earth Savers Festival. YES!Fest '94 will be held on Sunday, October 23, 1994 at Crown Point Shores, Mission Bay, from 10am to 4pm.


SDED is pleased to announce that The San Diego International Children's Festival has teamed up to provide an exciting line-up of artists on two stages. West African drummer, Omar Moore, storyteller Harlynne Geisler, and others will entertain and delight San Deigo area students and their families.


The Children's Festival is a non-profit organization that promotes family unity through the arts. "We see this as an oppoortunity to promote not only family cross-cultural unity, but also an awareness of our connectedness with nature and the environment," explains Greg Robe, Children's Festival production manager. "Although we were not able to continue our annual five-day festival this spring, by collaborating with San Diego Earth Day, and with the generous support of Target Stores, we are able to still work toward our goals."


Other YES!Fest highlights include:
The Storytelling Stage, hosted by animal expert and KUSI commentator Nancy Kobert.
Demonstrations of solar-power and PET plastics recycling.
A tribal mask-making workshop (at 1:00pm) led by Liisa Daniels.
Displays of school ecology club projects.
A workshop on Spiritual Ecology and Earth Community, working with children to envision a more harmonious future (at 2:30pm), led by Monti Valentine.
Guided walks of the Crown Point ecosystem led by the San Diego Audubon Society and coastal park rangers.
High school ecology clubs challenging each other for prizes in an environmental game show from 1:00pm to 3:00pm.

Like all San Diego Earth Day events, the YES!Fest is organized and produced by volunteers. If you would like to volunteer, or are interested in exhibiting or sponsoring an event, please call Kari Gray at (619) 272-7370 and say YES! For more information about performers and stage events, call Greg Robe at 234-5031.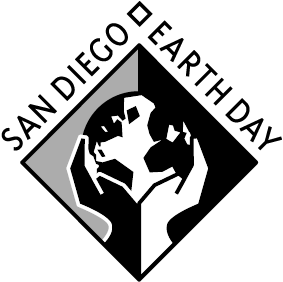 SDED unveils new logo for 25th anniversary

ext year's 25th annual celebration of Earth Day promises to again focus the intense interest of the public and the media on important environmental issues. To celebrate Earth Day's "silver" anniversary, San Diego Earth Day is proud to debut a new logo. The design, a contribution of artist Steven Morris, gives SDED a new, modern look, while preserving the image of "the earth is in our hands."


Our previous logo, that has graced our literature for five years, is the creation of San Diego artist Jennifer Hewitson. The image was developed as part of an award-winning flyer produced by the ECOgraphics Committee of the American Institute of Graphic Artists for Earth Day 1990. Jennifer has graciously allowed SDED to use the earth-in-hands logo ever since.


The new logo's designer Steven Morris recently moved to San Diego from our nation's hub, Washington D.C. His company, Steven Morris Design, is used to working with an array of organizations: environmental, educa-tional and arts, as well as designing the 1994 World Cup Soccer Events Pocket Guide and museum graphics in Singapore, Hong Kong and Bangkok.


Steven first learned about SDED from an article in the Earth Times and called to offer his services. After looking at his stunning portfolio, we gladly accepted. In addition to the new logo, he has contributed a full corporate package, including letterhead and business card design, plus the YES!Fest logo.


"I started out moonlighting: working my day job as an art director for a design studio, then changing hats after hours to work with my own clients," says Steven. At first, it was mostly environmental organizations that he contacted.


"I got tired of throwing money at these organizations wondering where my donations were going and wondering how I could be of greater help to these groups," he explains. So he started doing pro bono work for environmental firms. This led to paying jobs when his clients saw the quality of his work. After that, he concentrated on arts and educational organizations.


"I love working with people who believe in what they're doing and at the same time have the ability to maintain their goals," he says. "This includes all industries. You don't have to be a saint to believe in what you do. It's great to solve problems for people who need your help - coming up with visual solutions is something that comes naturally to me."


Morris' works have won numerous design awards. He believes this is due to his ability to give meaning to his work and holds the philosophy that, "design isn't what something looks like, it's what people think when they see it." He sees design as a vehicle to introduce familiar ideas in an uncommon way.


"The only way people remember things, such as design or any form of communication, is to make them original as well as familiar," he says. His design and approach are direct, changing style freely from piece to piece, and highly communicative.


Those of us who work with San Diego Earth Day welcome Steven to San Diego, and thank him for his contribution.


Kari Gray is the YES!Fest organizer and SDED Operations Manager.