Kanazawa Institute sweeps "Solar Splash" regatta
supplied by Johnson Controls

uring two days of exciting races, students from Kanazawa Institute of Technology in Kanazawa City, Japan, won both speed and endurance portions of the Solar Splash, the world's first solar/electric boat regatta featuring craft designed and built by college students.


About 130 students from 10 schools in Japan, Puerto Rico, Arkansas, Louisiana, Massachusetts, Michigan, South Carolina, and Wisconsin participated in the event. The regatta was held August 20-21, 1994 on Pewaukee Lake, Wisconsin, about 20 miles west of Milwaukee. The Solar Splash was co-sponsored by Johnson Controls, Inc. and the American Society of Mechanical Engineers.


On a cloudy, windy day, the Kanazawa team won the 200-meter sprint event with a speed of almost 22 miles per hour and a time of 23.5 seconds. Cheered on by hundreds of spectators, the University of Arkansas-Little Rock came in a close second with 24.03 seconds. The University of Michigan was third at 33.03 seconds, and McNeese State from Lake Charles, La. was fourth at 40.00 seconds.


The sun beamed brightly during the endurance event on the second day. Kanazawa's boat won by covering more than 16 miles in two hours, with an average speed of about eight miles per hour. The University of Puerto Rico came in second (13 miles), and Kobe University of Mercantile Marine in Japan came in third (12.7 miles). Grand Valley State University in Grand Rapids, Michigan was the top U.S. finisher in fourth place (11.5 miles).


Kanazawa's winning boat, the "Golden Eagle," is constructed of carbon F.R.P. It has twin propellers on a single strut, which extend deep into the water. Kanazawa team pilot Akihisa Yamada said winning the solar endurance race was more important than the speed race. "This event really shows the feasibility of solar energy over a long time," he said.


"The Solar Splash was established to promote interest in science and technology, education and personal interactive skills. This year's event was successful in all these areas, and everyone - including the spectators - had a good time," said Michael Johnston, vice president and general manager of the Johnson Controls Battery Group.


"The competing boats ranged from high-tech, sleek racers and graphite hydroplanes to converted canoes and fishing boats. However, the complexity of the design didn't always mean a faster boat," Johnston said. He noted that more than 70 college teams have expressed interest in participating in the 1995 Solar Splash.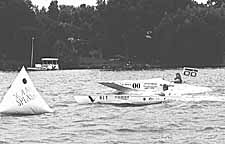 Solar/electric boat from Japan's Kanazawa Institute of Technology edges out the University of Arkansas-Little Rock craft in the Solar Splash, the first solar/electric regatta featuring boats created by college students.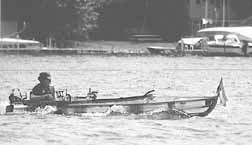 This entry was built by the students at the University of Puerto Rico-Mayaguez. The event also featured entries from Japan, Arkansas, Louisiana, Massachusetts, Michigan, South Carolina, and Wisconsin.

Johnson Controls, the largest U.S. manufacturer of automotive replacement batteries and a leader in lead-acid battery research for electric vehicles, provided batteries for all participants.