San Diego Sustainability Network at work
Is sustainability sustainable? Two projects are a providing positive indication.
by Skip Fralick

goal of the San Diego Sustainability Network is to spark development of multiple approaches demonstrating the economic benefits of sustainable technologies in the San Diego/northern Baja bioregion. Two promising movements are emerging in San Diego: the formation of a strawbale home support network, and the formation of a non-profit organization seeking to demonstrate sustainable community technologies.
Strawbale construction

The strawbale home movement has received a boost by the recent formation of The California Strawbale Association and the passage of AB1314, which provides a model code to assist permitting agencies in approving strawbale construction. The formal kickoff of CASBA occurred in June at Shenoa, a beautiful retreat and sustainability learning center in the California redwoods. The meeting, held in a strawbale home featured in Sunset Magazine, was attended by experienced strawbale professionals from as far away as Texas. Thanks to careful steps and cooperation from enthusiastic building officials, plus the natural appeal of these homes, the founders are very optimistic that the revolution in home-building has begun.


CASBA will hold its next meeting in San Diego on October 19 and 20. On October 19 there will be a business meeting open to members and supporters. It will be held at the strawbale home of Laurie Roberts and Dale McLelland in Descanso.


A seminar of interest to all potential strawbalers and building officials will be on Sunday, October 20 at U.S. International University. Some of the nation's most qualified strawbale experts will address the major theme: the permitting process. Results of significant engineering progress in this field will be presented with the objective of informing local building officials and walking would-be strawbale builders through the process. Professor David Bainbridge, author of the already classic book, The Strawbale House, will co-host the event, along with CASBA and the Sustainability Network. Contact Skip Fralick, 565-2603 for information.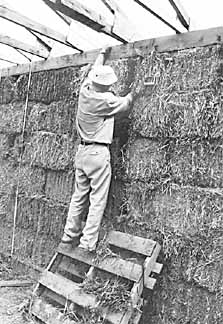 John Pace trues up a new strawbale wall at a Rosarito building site.
Calling volunteers

Two current strawbale projects are in need of volunteers. The first project involves the construction of community center buildings at Valle de las Palmas (15 miles south of Tecate). For information about this project, call Bob Bolles at 486-6949.


The second, a 40-home Habitat for Humanity site in Tecate. About 100 Lutheran students from Seattle & Oakland raised $8,000 for the Tecate center. The strawbale walls are up (as of Aug 17), and Saturday volunteers are invited to help with the roof and stuccoeing. For information, please call Skip Fralick, 565-2603.
Sustainable communities

Seminars and workshops sponsored by the Sustainability Network have elicited several sustainable community plans in various stages of development. These sessions, hosted by Carolyn Chase, Skip Fralick, and David Bainbridge (USIU), have generated a "critical mass" of active participants. Marguerite Hampton, Manny Aguilar and Jim Bell are spearheading the formation a non-profit organization called CRANE. This organization will raise funds for technology demonstrations, such as appropriate housing construction, wastewater treatment and water reuse, and sustainable agriculture. Open workshops for developing CRANE or other promising programs will be held the last Saturday of each month, either at Skip Fralick's Carlsbad office or at USIU. Persons interested in learning more about co-housing, intentional communities and sustainable community efforts should contact Skip at 565-2603.


Sustainable communities offer great hope to conservatives and liberals alike, who seek peaceful small-community environments that are built and governed by the homeowners. The San Diego/ Tijuana bioregion provides unique opportunities to demonstrate the great promise of these "new" types of communities.


Skip Fralick is a Solar and Mechanical Engineer, President of the the San Diego Association of Energy Engineers, member of Habitat for Humanity Board of Directors and catalyst/coordinator of many sustainability initiatives in our bioregion.