First SDED Restoration Project a success

n three Saturdays this Fall, over 450 enthusiastic volunteers came out to renew and restore Mission Trails Regional Park, the Sweetwater Marsh Wildlife Refuge in Chula Vista and the Youth Camp on Fiesta Island. Volunteers included 91X listeners and Radiothon volunteers, school ecology clubs, retired electronics workers, moms and dads, people just walking by and highly trained ecologists.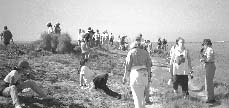 At Mission Trails Regional Park volunteers picked up trash, removed viscous non-native plants, and did some light trail blazing. The debris included choice items like women's high-heel shoes, panty hose, a set of Halloween photos, a pair of sunglasses and lots of cigarette butts. This first project provided several important lessons: give careful directions on how to get there, and don't forget the key to the portapotties.


After a long day, big Cockle Burs (a non-native species) were everywhere, embedded in people's shoes, clothing and hair. However, the Torrey Pines High Ecology Club had "so much fun," they signed up to help again on their own. If all this sounds like your kind of adventure, please call Park Ranger Dan Bylin at 668-3275 to volunteer.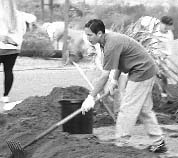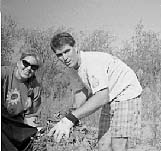 The following week, volunteers removed ice plant - a non-native species - from the Sweetwater Wildlife refuge in Chula Vista. How hard could it be to pull ice plant out of sand? Well, this succulent is quite weighty and can really put up a fight when it has owned an embankment for years. Bending down and pulling out the baby ice plant sprigs is a good imitation of "squats" exercise, felt by many the following days!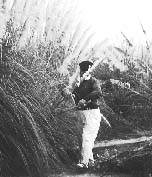 Students from several schools worked together to test the water quality at the marsh. The results were a pleasant surprise - no nitrates. This data will be entered in the county-wide Surfrider or San Diego Water Authority data banks. If you or your group are interested in helping to continue our work at this huge site, please contact Park Ranger Mari VonHoffman at 575-2704.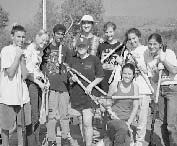 At our big finale in December, over 175 volunteers restored Fiesta Island's Youth Camp area in Mission Bay. Volunteers helped paint curbs and tables, plant native trees, removed some non-natives and did water testing. Another surprise: no nitrates in the bay. Who would have guessed that?


Our hats - and sunglasses - are off to our sponsors who know how to keep the spirit of Earth Day alive all year: 91X, Solar Turbines, Urban Corps, Ben & Jerry's West Coast, Safe-skin Corp., Palomar Mountain Water and Home-base. For information about our next restoration project, please contact Julaine Chattaway, Project Coordinator, at (619) 272-7370.