Building Materials Recycling: industrial strength
by Lorin Hallinan

hen workers removed the original wood boardwalk last spring at Seaport Village, the planks were replaced with slate paving stones. It looks much better, and may be safer to walk on, but where did all the long planks go?


The San Diego Convention Center recently needed a new water heater, so they replaced the huge piece of equipment with a new model. It's more energy efficient, which is good. But what happened to the old one that was hauled away?


Luckily, none of these things ended up at a landfill, thanks to the increasingly responsible way businesses are getting rid of their waste.


"There seems to be an increase in consciousness with contractors and others in San Diego to look for an alternative instead of just saying, 'Let's throw this out'," said Dan Cannon, a 29-year-old entrepreneur. Cannon is the founder of Building Materials Recycling, a nonprofit company in Otay Mesa, which tore up and recycled the wood from the boardwalk.


Some of the wood planks, averaging 20 feet long and weighing about 170 pounds each, were shipped to Baja Christian Ministries in Baja California where they were reused by Oaxaca Indians in the San Quintin Valley. Approximately 40 tons of the reusable lumber was eventually recycled. So whatever happened to that water heater? Staff at the San Diego Convention Center didn't know what to do with it, so they called Cannon in hopes that he'd take it away. He gets calls like that all the time from business and contractors.


What Goodwill and the Salvation Army do with clothing and furniture, Cannon's nonprofit company does with building materials - sort of a second hand store for such items. Building Materials Recycling is one of a growing number of recyclers in the San Diego County working to save landfill space and preserve resources.
Valuable "stuff"

As the name implies, Cannon's company trades in a wide variety of reusable building materials. "We have a weird mix of stuff," he pointed out. The "stuff" includes bricks, doors, dry wall, sinks, pipes, tile, windows, tools, handicapped handrails for restrooms, lighting fixtures, flooring and more. "If it can be used in the building of houses, offices or other buildings, we can recycle it," proclaims company literature (printed on recycled paper, of course).


Cannon started Building Materials Recycling in January 1992 after realizing he could do something about the incredible waste going on within the building industry.


While working in carpentry for a contractor in Del Mar, Cannon would cringe at the sight of doors, sinks, windows and other items being thrown away. Most of the things were in good, reusable condition. "No one had the space to store these things," said Cannon. "We were always brainstorming at the job site about what to do with all the stuff. In order to get some of the things into the dumpster, we'd have to break them, so these perfectly good things were thrown away. It was breaking my heart."


Confident there was a demand for the services he had in mind, Cannon started Building Materials Recycling. He first began storing items in his garage in Del Mar, then rented a storage yard in San Marcos from Coast Waste Management. After almost three years and several hops around the county to increasingly bigger leased sites, he has settled his business on a one-acre sprawl across from Brown Field in the Otay Mesa community of San Diego. The company is nestled among other recyclers, too, that make use of metal, wood, drywall, porcelain, paint and other materials.


Cannon said he tailored his company after two recyclers he'd read about: the Loading Dock in Baltimore, Md. and Urban Ore in Berkeley, which recycles everything from barbecues and bikes to doors and windows. "I figured it'd probably work in San Diego," said Cannon.


Until recently, Cannon worked days running the company, then at night delivered pharmaceuticals to area nursing homes until 2 am just to make ends meet. Recently, Cannon was able to give up his night job. Now licensed and insured to do demolitions for contractors, the business is starting to be self-supporting. A good head for business has contributed to his company's growing success, and a timely "sweat equity" deal with friends in Tijuana has allowed him to live rent free in an apartment he's helping to refinish.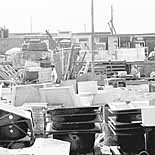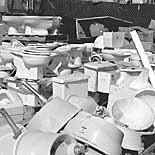 [Left] Not just another pretty face, the recycling yard is filled with doors, windows, porcelain fixtures, recovered wood, glass, metal ... anything of value that can be reused or recycled from either new construction or demolition. [Right] The Building Materials Recycling yard contains this porcelain purgatory where dozens of fixtures await their fate. Some will be resurrected for use; others will be crushed for use as roadbed aggregate; none will end up in a landfill.
Nonprofit benefactor

Building Materials Recycling redistributes materials two ways, through its thrift store and through donations. The company is known for providing affordable building materials for low-income families and nonprofit organizations.


A string of thank-you letters from organizations pour regularly into Cannon's office. Two screen doors, two small metal and glass windows and two wrought iron grills were donated to Friends of the Poor, an organization affiliated with Mother Teresa in Tijuana, Mexico. Castile Canyon School, a small private school in San Jacinto, in Riverside County, received free materials which children used for small construction projects in the classroom. Mini blinds have gone to the William D. Lynch Foundation for Children in San Diego. "Any nonprofit organization can come to us, show us their 501(c)3 (status) and if we have something they want, they can have it," stated Cannon.


Cannon and his six part-time employees do everything from picking up items at construction sites to assisting in demolition of buildings, offices and other structures. That's where most of his profit comes from, besides from the hauling fees he charges. "When we do demolition we try to collect reusable materials," said Cannon. "We use pry bars especially welded for manual demolition. There's a trick and skill to it. There are appropriate ways to remove things without breaking lumber or destroying toilets, sinks and cabinets. Then we (redistribute) them to people who recycle. If contractors have a whole pile of scrap wood, for example, we refer them to people like Pacific Disposal Co. and they'll come haul it away to be recycled."


Pacific Disposal Co. is one of a half dozen wood recyclers in the county, according to Cannon. Concrete, asphalt and any rock material recovered often goes to Don Argleben Recycling, the designated recycler for San Diego Gas & Electric and one of the businesses located next to Cannon's.


Argleben said his company, which began six years ago, was the first of its kind in the county. He uses a big mechanical "jaw" to crush and grind up the concrete, which is made into manufactured sand. SDG&E uses it for backfill material with their gas and electric lines.


The ground concrete is also made into 3/8-inch peat gravel, used for backfill in ditches. "We even sell the ground concrete back to those who bring it to us," said Argleben. "Contractors bring it in huge chunks. The landfills charge $55 a ton [to get rid of it]; we charge $3 to $5 a ton."


According to Cannon, all scrap metal goes to Ecology Metal Recycling, another company next to his across from Brown Field. Drywall usually gets recycled, he said, at Recycling Earth Products. Cannon keeps in touch with a number of companies who can assist him in redistributing building materials.
Border benefits

Cannon is doing some advertising of his business in Mexican newspapers. "Some of the things needed in Mexico are roofs, doors, windows and other necessities," he said. "A developing country needs these materials. As America grows in wealth, we have this desire to save energy. In Mexico, they don't have the resources to do that."


Refrigerators are some of the items Cannon sees crossing the border into Mexico. Customs officials have been inconsistent when it comes to charging duty on the items leaving U.S. soil. "Some allow 'white' goods like appliances to go through," said Cannon. "The next week, they won't. If the person can't afford the duty, they'll bring the item back to me." One of Cannon's goals is to get a more centrally located site for his business. "We're looking into getting an additional location in Kearny Mesa, so we can better serve the general population of the area," he said. "We want to be well known in San Diego. I'd like to have about 10 different sites in the county to make it convenient for people to recycle materials. When a person has one door or one sink, it's not economical for us to pick it up."


In the meantime, businesses like Building Materials Recycling will continue to shift "junk" away from county landfills. Each month hundreds of businesses and individuals use Cannon's company as a sound way to help the Earth.


Luckily for San Diego, one person's junk has become someone else's treasure. You can help by giving him and other recyclers like him a call. Building Materials Recycling can be reached at 661-8155.