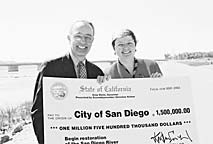 n Wed., Sept. 26, Assemblymember Christine Kehoe (76th District) presented San Diego Mayor Dick Murphy with a check for $1.5 million dollars to be used for the restoration of the San Diego River.
The presentation was part of a meeting with the Assembly's Select Committee on Park and River Restoration, chaired by Assemblymember Kehoe.
"There is much work to be done to preserve and restore the San Diego River," Assemblymember Kehoe said. "I am proud to be able to help fund those efforts, and help make the San Diego River an outdoor destination for thousands of San Diegans."
"These funds - and lots of volunteers will help clear the river banks of nonnative plants and restore its ability to clean water the way our wetlands should," Assemblymember Kehoe said.
"This $1.5 million grant is a huge step towards our efforts to create a San Diego River Park," said Mayor Dick Murphy. "It also moves the city closer to my fourth goal, cleaning up our beaches and bays, by funding research to improve water quality of the river."