"Hey mister, where's yer cow?"
Second- and third-graders learn about organic farming first hand.
by Kari Gray

rom the time they are singing about Old MacDonald and the Farmer in the Dell, many kids have a lively interest in farms and farming. They want to see where their food comes from, where the farm animals live and how many strawberries they can cram in their mouths before the juice starts to dribble out and slide down their chins.


On April 22, the actual, official Earth Day, fifty-five enthusiastic second and fourth graders from Jefferson Elementary and six adults toured the Be Wise organic farm in Rancho Bernardo. The tour was organized by Mothers & Others for a Livable Planet and San Diego Earth Day and sponsored by Jimbo's... Naturally! in North Park.


The EPA estimates that between 60 and 90 percent of all pesticides used in conventional agriculture are carcinogenic. Rather than relying on petrochemicals to enhance productivity and combat pests, organic agriculture strives to build up the soil through other methods such as weeding and the use of companion planting to control pests. Organic farming methods protect air and water quality, prevent soil erosion and promote biodiversity.


Standing beside the ripe fields of Be Wise Ranch, forewoman Serena Wyatt commenced the tour with a brief explanation of organic farming basics: use of beneficial insects, crop rotation and techniques of building up the health and fertility of the soil using natural inputs such as manure and mulch rather than petrochemical fertilizers and pesticides. Mothers & Others project coordinator Susan Shepherd then led the group on a tour of the farm, pointing out various crops and explaining particular organic farming methods. The tour ended with the children running into the fields to pick and eat fresh organically grown strawberries.


"I loved berry picking as a kid," said Debbie, a fourth grade teacher at Jefferson. "This spring, we've studied about organic farming in class, but it's great that the kids get to have a hands-on experience like this."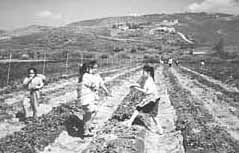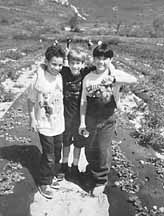 Afterwards, the children gobbled up organic lunches provided by Jimbo's...Naturally!, a North Park grocery store that specializes in organic products. The store also supplied educational materials on the subject of organic farming and provided the transportation to the farm.


Founded in 1989, Mothers & Others is a national nonprofit organization that translates environmental concerns to everyday life by providing people in all homes and communities with practical, solutions-oriented information. Its primary project is the Shoppers Campaign for Better Food Choices, which aims to encourage and harness consumer demand for a shift to farming methods that are safe, sustainable and environmentally responsible. The campaign promotes organic agriculture and educates about its benefits through a variety of events and projects such as farm tours, publishing booklets (Where to Buy Organic in San Diego County and 10 Reasons to Buy Organic) and encouraging local retailers to stock organics.


For more information on organic food and where to buy it in San Diego county, or to schedule an organic farm tour for your school or group, contact Susan Shepherd through San Diego Earth Day at (619) 272-7370.