ur success as a global community depends upon our ability to see how everyday actions impact our natural world and then to do what we can to reduce those impacts. In celebration of Earth Day 2001, San Diego EarthWorks announced this year's winners of the EARTH (Environmental Action & Restoration That Helps) Awards. The EARTH Awards recognize San Diego businesses, government agencies, community leaders, and non-profit organizations that are making a positive difference for the environment.
This year's recipients are as follows:
Lori Brickley is a teacher at Rancho Bernardo High School and has been an educator for 21 years. For ten of these years she has been teaching civic environmental volunteerism in her classroom. She has taught about 150 students each year with each responsible for 24 service hours. About 36,000 hours have been spent in service to the community. She also started a peer mentoring program at RBHS, led an Outward Bound trip to Costa Rica, inspires her students to make a difference. More than a 100 of her students volunteer for the EarthFair in Balboa Park each year.
Sustainable Earth Enterprises (SES) is a non-profit organization that teaches home-builders the proper methods for "green" structure designs, including building straw bale homes and solar electric systems. These structures are energy efficient and utilize straw bales, which are usually a waste product.
The San Diego City Wide Canyon Sewer Maintenance Task Force is made up of 33 community groups, including city representatives, regulatory agencies, non-profit organizations and community leaders that are evaluating options and alternatives and developing a citywide policy for operating, maintaining and accessing a sewer collection system where environmental health and public safety are protected and impacts to San Diego's urban canyons is eliminated or minimized. The city is currently evaluating the proposed policies and the matter will be heard later this year at the City's Natural Resources and Culture Committee. Their complete report may be found at www .canyonsewer.com.
Solana Recyclers' Recycled Products Purchasing Cooperative has established a cooperative effort to buy recycled-content paper in bulk while at the same or lower cost than paper made from virgin fiber. Price is usually the biggest barrier for businesses buying recycled paper, so co-op members, about 85% of which are recent converts from virgin fiber paper, will buy more than 50,000 cases, or 1,250 tons, of recycled paper this year with a goal of 200,000 cases by 2003. By proactively switching from virgin fiber office paper to recycled-content paper, their members purchasing practices have:
Conserved 2.5 million kilowatts of electricity
Conserved 3.8 million gallons of water
Saved 12,000 full grown trees
Kept 37,500 lbs. of pollution out of the airshed.
The Co-op is a now a national nonprofit program which is available free-of-charge to any business or public entity. Contact the RPPC at (800) 694-8355 or visit www.recycledproducts.org for more information.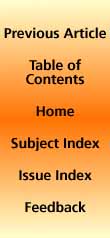 Tiffany Tran is a new student this year at Rancho Bernardo High School. She planned, organized and implemented a school-wide recycling program for paper. The National Honor Society and Key Club members are responsible for collecting the paper and bringing it to the recycling center every week. She saw a problem and created a solution, she is reducing waste at the same time recycling a precious resource.
The EARTH Awards were presented at San Diego EarthWorks' Very Important Planet (VIP) Reception, on Thursday, April 26th at the City's (Green) building at 9601 Ridgehaven Court in Kearny Mesa. San Diego's Mayor Dick Murphy presented the EARTH Awards and the City of San Diego's Waste Reduction and Recycling Awards. For more information, call the 24-hour Earth Day hotline at (858) 496-6666 or find out about upcoming events online at www.earthdayweb.org.