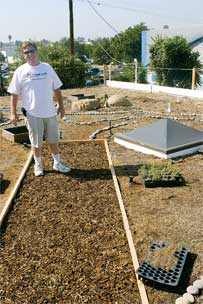 Jim stands in a box filled with bark that is a future viewing area for the 1,700 square-foot roof garden. The garden features soil that is 4 to 5 inches deep, and will be planted with California and southwest native plants including cacti, succulents, grasses, sun rose, desert marigold and beach primose.

T

hough it is virtually unheard of in Southern California, Jim Mumford of Good Earth Plants in Kearny Mesa plans to demonstrate how to create a green roof specifically designed for San Diego. While creating a green retreat, Jim will be monitoring reduced energy usage and storm water runoff.

Green roofs will be installed on two of the three buildings at Good Earth Plants. The third building will be kept as a control. Centrally located, the site is five miles from the Pacific Ocean and sits between the coastal and inland weather patterns.

As evidence continues to mount that climate changes and polluted coastal waters have a negative effect on our environment, green roofs are being considered to improve the environmental and energy performance of buildings. Green roofs have been used in Germany, Northern Europe and Japan for more than 30 years to help reduce the urban heat island effect and storm water run-off problems.

Mumford has assembled a team that will be critical to the success of any green roof project, including a roofer originally from Germany who has experience with green roof construction, and a Leadership in Energy and Environmental Design (LEED) Accredited Professional architect.

Installing a green roof is not for the faint of heart! This redo began with removing the existing roof. The new roof includes a waterproof layer, drainage layer, and soil separator. You then add your growing medium.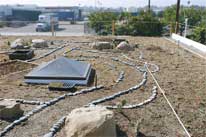 Stones mark paths on this future root garden. You might think you were on the ground, but the skylight gives it away.
Jim is experimenting with two different approaches on different sections of his building. The photos demonstrate a basic, flat and shallow native planting. Plants are chosen carefully for non-invasive roots. The next section will use deeper, plastic planters. He looks forward to comparing results side-by-side in coming months.
Other members of the Green Roof Team include: Robert Thiele, architect with the American Institute of Architects and a Leadership in Energy and Environmental Design Accredited Professional; Ulf Waldman from Mission Valley Roofing; Mike Evans from Tree of Life Nursery; Chris Lyon from Planter Technology Modular Units; Bob Humphus of Greener Concepts Irrigation; and Todd Lass, General Manager of Good Earth Plants.
As Good Earth Plants gets ready to celebrate its 30-year anniversary in 2007, Mumford's new passion is advocating the use of forward-thinking environmental designs for commercial and residential buildings.
You'll able to visit the Green Roof project as part of San Diego Earthworks' GreenBuilt Tour later this fall. Visit www.earthdayweb.org for tour details.
For more information about the Green Roof project, please visit www.GreenRoofSanDiego.com.