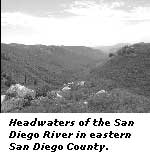 Imagine a greenbelt of open space, recreation and community facilities, trails, cultural history sites, and interpretive signs stretching from the mountains near Julian to the Pacific Ocean along the 52-mile long San Diego River. Many members of our community have held the dream of this greenbelt, known as the San Diego River Park, for years. As envisioned, it would consist of a system of community and regional parks linked together by trails, functioning wildlife habitat, and clean water. It would also celebrate the river and its role in our community for the 10,000 or more years that people have lived along it. The River Park has recently taken several large steps to becoming a reality.
On September 13, 2002, State Assembly Bill 2156 was signed by Governor Davis, establishing the San Diego River Conservancy. AB 2156 went into effect on January 1, 2003, and created the eighth state-chartered conservancy in the State of California, and the first in San Diego County. Governor Davis also announced $12 million of State bond money has been dedicated to begin this effort.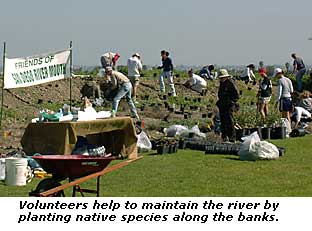 This act recognizes that the San Diego River is of statewide significance for its natural and cultural resources. Other conservancies include the Coastal Conservancy and the Lake Tahoe Conservancy.
The legislation was authored by Assemblymember Christine Kehoe and coauthored by Assemblymember Howard Wayne and Senator Dede Alpert. More than 100 people were in attendance for the signing ceremony, which took place on the banks of the river in Mission Valley. Chairman of the Board for the San Diego River Park Foundation, Michael Beck, was on hand at the ceremony representing the many community groups and individuals who worked on and supported this legislation.
The San Diego River Park Foundation is a nonprofit organization formed to support the establishment of the River Park and to assist the many non-governmental organizations which have come together to work on this effort. These groups have formed the San Diego River Coalition to regularly meet and discuss these issues. In the past year, a Conceptual Plan for the River Park has been completed. This Plan presents a community-based vision for the River Park including goals, strategies and guidelines for its development.