Most people are aware of the necessity to recycle. How ever, the importance of buying recycled paper and other products is not as well understood.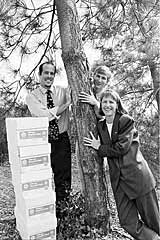 From the left: Tyson Miller, Program Manager; Jedd Farber, Program Associate; Jacy Davis, Solana Recyclers' Executive Director

In fact, recycled paper represents less than 10% of the entire printing and writing paper market. This means that new trees are continually being harvested to support our paper consumption needs. Recycled paper supports recycling markets, keeps paper materials out of landfills, conserves energy, saves water, decreases air pollution, creates sustainable jobs and most importantly saves trees!

The higher price of recycled paper has historically prevented most buyers from using it. Solana Recyclers created the Recycled Products Purchasing Cooperative (Co-op) to directly address this price issue. The Co-op started in May of 1999 and uses its collective purchasing volume to negotiate discounted pricing on recycled paper. To date, nearly 150 members have been enrolled and have collectively purchased nearly 60,000 cases. By proactively switching from virgin fiber office paper to recycled-content paper, our members purchasing practices have:
Conserved 2.5 million kilowatts of electricity
Conserved 3.8 million gallons of water
Saved 12,000 full grown trees
Kept 37,500 lbs. of air pollution out of the sky.
The Co-op is a now a national nonprofit program which is available free-of-charge to any business or public entity. Members include: City of San Diego, Axiom Electronics, Sea World, Del Mar Fairgrounds, Ancile Pharmaceuticals, Union Bank, UCSD, Baxter Healthcare, BioQ, Aloha Printing, Harvard University, Swinterton & Walberg, and hundreds more. Contact the RPPC at (800) 694-8355 or visit www.recycledproducts.org for more information.

Our success as a global community depends upon our ability to see how everyday actions impact our natural world. Using recycled products as opposed to virgin extracted materials is one of those simple actions. The Co-op needs your help to spread the word! So, find out if your business uses recycled paper and tell your friends about the opportunity to make a difference.
The RPPC is a program of Solana Recyclers, a nonprofit organization. Program sponsors include: US EPA Region IX, Union Bank of California, The San Diego Foundation, and Coast Telecommunications
Every 5 cases saves the equivalent of 1 tree!