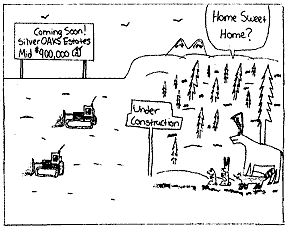 What has happened to all the wonderful country fields, sagebrush, and steep natural hills? As life goes on, Carmel Valley has gone from a beautiful country to a crowded city. If you look at it today, just imagine what it will look like two decades from now.
Too much of our outstanding town is covered with shopping malls, offices, and apartments. At many nature sites, the developers have sent their men to start grading roads for future homes. The animal and plant habitats will disappear, and if the plants and animals don't have their proper habitats, then they won't be able to survive. Tractors, bulldozers, and excavators have been grading through sage, and killing anything that lies in their paths, and leaving it for the crows to swoop down and eat the carcasses. If this process continues, Carmel Valley will soon took like downtown San Diego.
There are many people, however, that clearly believe that more homes build a larger community, which is true. These people are willing to sacrifice parts of the environment for their new homes. Remember, most new residents aren't interested in used homes, but most are interested in new designs.
If we persuade developers to do the right thing, then our valley could possibly stay as it is now. Just go down to the construction sites and see the disgusting scene! The newcomers are finding new homes, while the animals are losing theirs.

Jeff is 11 years old and a 6th grader at Carmel Del Mar School. As a class assignment, he was instructed to create a political cartoon and an editorial on a subject that was important to him. Jeff, his brother Chris, and their parents live on Del Mar Mesa, which is the south mesa between Carmel Valley and Pe–asquitos Canyon. He spends a great deal of time outdoors on the trails with his brother and their ponies and has a deep respect for our native wildlife and the environment.