Earthkalah: Super*Kids for the future
You're invited to take part in the Earth Day performances of an environmental musical
by Angela Amoroso

housands and thousands of years ago in the galaxy of the chocolate bars, existed the most wondrous planet called... Earthkalah. Kalah comes from the Greek word meaning "great", hence the Great Earth. Earthkalah is an environmental children's musical. Its intent is to inspire the audience and reinforce the message that together we have the power to change our world.


Earthkalah is produced and performed by Super*Kids. Super*Kids are all kids dedicated to children's awareness of environmental concerns, world health, peace and community service. Directed by Angela Amoroso, youth involvement coordinator for San Diego Earth Day and the artistic director for the Scripps Performing Arts Centre, Earthkalah will be performed for the 25th Anniversary Celebration of Earth Day and will be presented to thousands of children throughout San Diego County.


The most effective way to influence the actions of a child is through the actions of other children. Super*Kids instills positive peer pressure. Unlike children's theater of yesterday, which relies on fairy godmothers to chase away the evil and provide a happy ending, today's theater has the responsibility to probe and reflect on the issues and answers faced by the young people of today.


In a society frightened by the complexities of the sophisticated problems now facing our youth, "just say know" may not provide the complete answer. The problem starts with the individual. Self esteem and a sense of individual responsibility are the keys to providing a healthy direction in life. People of all ages, who feel useful, are far less likely to develop habits that are destructive to the self, the family, society and our planet. Today's youth must be empowered to believe that they can and should play a major role in determining their own destiny as well as the destiny of our planet.


Come join us as we celebrate the 25th Anniversary of Earth Day. Volunteer any of your talents. Schools, families and individuals that want to participate in Earthkalah, should call the Scripps Performing Arts Centre at 586-7834 or San Diego Earth Day at 272-7370.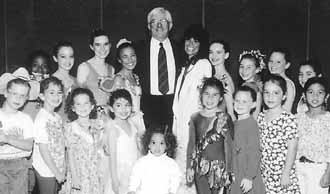 Super*Kids and Phil Donahue at the 1994 San Diego Convention Center children's forum. Super*Kids performed the finale of "Earthkalah," an original song entitled "We Are Here to Change the World."