Finding a replacement for redwood lumber may be a key to saving these magnificent trees. If would have to be strong, weather-resistant and easy to work with. Now, a synthetic material made from recycled scrap may fill the bill.
by Lorin Hallinan

hat looks like wood, cuts like wood, is sold like wood, but isn't really wood? Or at least not pure virgin wood? It's yet another product being used in the building industry that attempts to protect nature by mixing natural stuff with synthetic stuff to get better stuff.


Some people think its great stuff. Of course, that makes its developer, Mobil Chemical Corp. in Norwalk, Conn., only too happy.


With the exception of builders who are enthralled with such things, talking about building materials could be considered a natural cure for insomnia. But can you relate to this: picture yourself strolling barefoot on a wooden deck with no possibility of getting a splinter. Who wouldn't like to be saved from that tiny torture?
Star Trex

That's one of the selling points Mobil is really plugging with the product, Trex, that hit the market two years ago. No splinters. What's supposed to keep the material from splintering and deteriorating like regular wood, a company spokesman said, is its basic, simple recipe.


It's made of 50 percent recycled wood, like wood fiber from sawdust and used wooden pallet, and 50 percent recycled plastic materials, from plastic grocery bags and industrial stretch film. Trex is slowly becoming the buzz word of the building industry. Or at least that part of the industry with an eye toward the future.


A list of the product's attributes goes on and on ad nauseam. It apparently is stubborn enough to withstand lots of abuse and neglect. If it rains a lot, the moisture won't make Trex rot or decay. It resists abrasion, so you can scoot things across it. You can leave it alone, give it practically no maintenance, and it'll still look good. Along with no splinters, it's not supposed to chip or crack. You can paint it or stain it or leave it natural. It doesn't warp. It swells and shrinks only a little when the temperature goes up or down. It absorbs sound.


If it ever does, heaven forbid, splinter, warp, chip or crack when used for residential decking, Mobil's 10-year warranty kicks in and the material will be replaced by the company.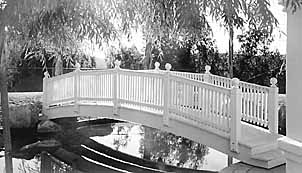 This 25-foot bridge is made of Trex; the only wood is the scrap lumber that makes up half of the composite material. In this humid, wet environment natural wood would be a continuous maintenance headache. The Trex doesn't rot, decay or splinter, and can take the same paint or stain finishes as virgin lumber.
Digging for dirt

So much for the good points. Isn't there something wrong with this material that sounds too good to be true? Well, about the only negatives anyone would admit to about Trex - including a Mobil spokesperson and a local builder who uses it - were things one could still deal with.


Item: Weather will fade the lighter-colored version of the product to while. However, you can paint or stain it if desired.


Item: Trex is known as being strong, but it's not as strong as regular lumber. Standard redwood decking needs a support every 30 inches; a Trex plank with the same dimensions requires support every 22 inches.


Item: Trex costs more than regular lumber. But since it lasts longer than lumber, that's really not a negative in the long run.


The biggest problem has been that it's taken a while to get out here in the west, and it's still mostly used in industry, not the private sector.


According to Dan Christopherson, president and owner of Northward Industries Inc. in Temecula, the only manufacturer that uses Trex exclusively to make furniture, Trex wasn't available through a West Coast distributor until the spring of '94. It's manufactured on the East Coast in Winchester, VA, and is now distributed by Capital Lumber Co. in Chino. Not surprisingly, "Mobil has more or less blessed our use of the material," Christopherson said. "As far as we know, we're the only manufacturer using it west of the Mississippi."
Public places

Northward Industries used to use redwood to manufacture its site amenities furniture. That's the official name for things like picnic tables, park benches, and playground equipment set out for the public to use at theme parks, stadiums, recreation areas, and other places. If you're a woman, you may have sat on one of Northward's benches in the women's restroom at Sea World. Or you may have seen one of its benches at Universal Studios Hollywood, or in the living desert and botanical gardens in Palm Desert.


With all of the concern over vanishing forests, Northward's collective conscience finally got in the way. Redwood was considered out as an alternative, in this case, and Trex was in. "Pricing is volatile. I could see the future for recycled products using recycled materials. There's always going to be a market for redwood, but using alternatives is certainly going to help our forest from an environmental standpoint."


After the Trex material is cut into slats, like regular wood, Christopherson uses a material, called polystone, to fashion the end pieces of the furniture. The material looks like granite. Technically, polystone is a mouthful: it's a rotational molded, low density polyethylene made of 40 percent recycled plastic. The company uses the material with Trex to build a "monument Series" of site furniture for recreational areas and golf courses, including the Murrietta Bear Creek Golf Course in Riverside County.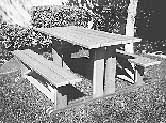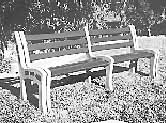 It looks like wood, it can be worked and finished like wood, but these public amenities are made of Trex, a composite of recycled wood and plastic. And, Trex doesn't splinter... an important feature for a bench!
Waste not

When Trex is cut using woodworking equipment, instead of blowing our sawdust, it blows out strings that look like spaghetti. "It smells like beer. I'm serious," says Christopherson, who's allergic to sawdust. "It doesn't have an alcohol smell. It has a nutty, hopsy smell."


He sweeps up the leftover "spaghetti" strands, which weigh less than sawdust, and ships them to Mobil Chemical Corp., which then recycles the excess. "The material (Trex) has far more advantages over any species of lumber that I've ever worked with," said Christopherson, who has 20 years experience in the landscape/hardscape construction business. "There's no knots or defects when it's manufactured, so we don't have any waste. Any little pieces we do have, we use as samples, but Mobil would take that back and recycle it, too. We haven't done that, but if we did, we'd be a zero waste company."
Piquing interest

Even though it costs 30 to 35 percent more to buy Trex than common grades of redwood, Northward Industries began using the product last April and has stuck with it. Sort of a good Samaritan thing for the globe. No doubt a smart business strategy, too.


When the company recently showed off its benches and handed out literature at a symposium, sponsored by I Love A Clean San Diego, it got a lot of attention. Christopherson has developed a new line of furniture for public use, and a new residential line of Adirondack chairs. Officials at city, county and state levels of government, plus private landscape designers and corporate honchos, showed interest in his globally-minded furniture. Christopherson recently used Trex to build a 25-foot bridge over a pond in a homeowner's back yard. Then he painted the bridge peach to match the house. "Redwood would have been a maintenance nightmare in a water environment like that with high humidity, said Christopherson. "Tannic acid would have turned it black."
The future

According to Christopherson, a federal rule projects that by the year 2000, all publicly funded projects, including nonprofit organizations and municipalities that use tax monies for support, must use 22 percent of their funds toward recycled purchases. That means stationary, furniture and all sorts of things needed to run a office or business will have to come from recycled materials.


Northward Industries just might be ahead of the game.


Lorin Hallinan is a freelance author and former editor for the Coast Dispatch and Carlsbad Journal community newspapers. A 13-year San Diego resident, she lives in Carlsbad.